Delivery Service Map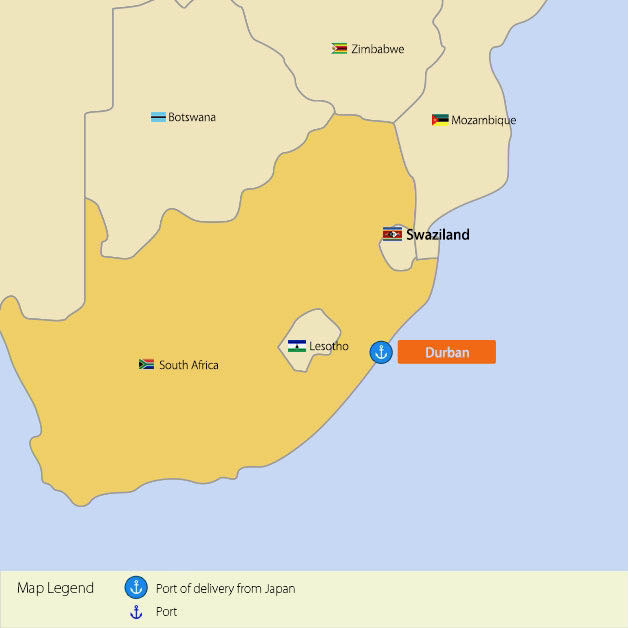 SOUTH AFRICA
Extra Information About Importing
Freight Charges:
It's depend on car size. Example (Small cars - $700, Sedan - $850, Van & small trucks $1000).
Import Regulations:
To import a foreign registered vehicle into South Africa you need an Import Permit and a Letter of Authority from South African Bureau of Standards (SABS).
Basically used vehicle are prohibited by South African laws but some collectors items are exceptional such as classic cars or racing cars (Nissan GT-R, etc.)
Please contact SABS for detail. https://www.sabs.co.za
Payment:
Customer should pay 100 % of vehicle and freight charge in advance.
* Tax Rates depends on the type of vehicles. Please inquire at your local clearing agent for latest updates.
Customs Clearance & Registration Process
Documents you need for customs clearance and vehicle registration are:
1) Cancellation Certificate [both in Japanese & in English].
2) Bill of Lading [Original 1st & 2nd].
3) Commercial Invoice.
4) Letter of Authorization [The letter confirming that you are giving legal rights to clearing agent to act on your behalf].
5) ID copy [e.g. own Passport copy].
[Step 1]
We will send you documents 1) - 3) via DHL (Cancellation Certificate, Bill of Lading, and Invoice). Please prepare documents 4),5) above by yourself.
[Step 2]
- Prepare for the local customs clearance.
- Arrange with the clearing agent for procedure. SBT have own designated clearing agent [i.e. Noble Shipping]. You may also arrange your own preferred agent.
- Documents you need are as mentioned above.
[Step 3]
Once you know the arrival schedule of your purchased vehicle to Durban port, you will need to prepare for customs clearance.
SBT can introduce you to our designated clearing agent called Noble Shipping, or you may also choose to arrange by yourself your preferred clearing agent.
Documents you need to submit to clearing agent are; Letter of Authorization, ID copy (e.g. Passport copy), plus the 3 documents mentioned above (Cancellation Certificate, Bill of Lading, Invoice).
[Step 4]
After the vehicle arrives in South Africa, there will be a process of duty & tax payment, Police check for registration, and Road worthiness check to obtain number plate. Local clearing agent such as Noble Shipping [##link] can give you precise advice.
Wide Range Of Cars
We've vehicles of all the brands you desire.
Available Where You Are
We've exported 500,000 used cars in over 152 countries.
Supporting You Anytime
Our support team are always connected with customers 24/7.
Uncompromised Quality
We do a thorough inspection before shipping so only quality is delivered to you.
Keeping It Reliable
With over 25 years in the industry, we focus on reliability resulting in 80% repeat purchases.
Offering Best Prices
You can find a wide range of vehicles that are kept in your range.
Frequently Asked Questions
The SBT Team

Our SBT sales staff
"Our friendly sales staff are happy to talk with you."

Our yard inspectors
"Our trained inspectors will thoroughly check your vehicles once they arrive in our yard."

Our auction inspectors
"Our auction inspectors ensure we only purchase top-quality cars."
Get In Touch With Us
Office Hours:
Mon.-Fri.: 9am-5pm JST

Closed:
Saturday, Sunday & Public Holiday

Office Address:
KDX Yokohama-Nishiguchi Bldg. 7F,
2-10-36, Kitasaiwai, Nishi-ku, Yokohama, Kanagawa, 220-0004, Japan

Phone:
(+81) 45-290-9485

Fax:
(+81) 45-290-9486

Email:
csd@sbtjapan.com