Best Used Cars For Sale In Mozambique
Buy The top-quality used cars for sale in Mozambique. SBT Japan has the best Japanese used car deals for everyone living in Matola, Maputo, Nampula, or anywhere in the country. Our team is available all the time to provide you with the finest imported used cars in the best possible deals. Affordable Second-hand cars of your favorite brands are waiting for you at SBT Japan.
Wide Range Of Cars
We've vehicles of all the brands you desire.
Available Where You Are
We've exported 500,000 used cars in over 152 countries.
Supporting You Anytime
Our support team are always connected with customers 24/7.
Uncompromised Quality
We do a thorough inspection before shipping so only quality is delivered to you.
Keeping It Reliable
With over 25 years in the industry, we focus on reliability resulting in 80% repeat purchases.
Offering Best Prices
You can find a wide range of vehicles that are kept in your range.
Clearing & Delivery service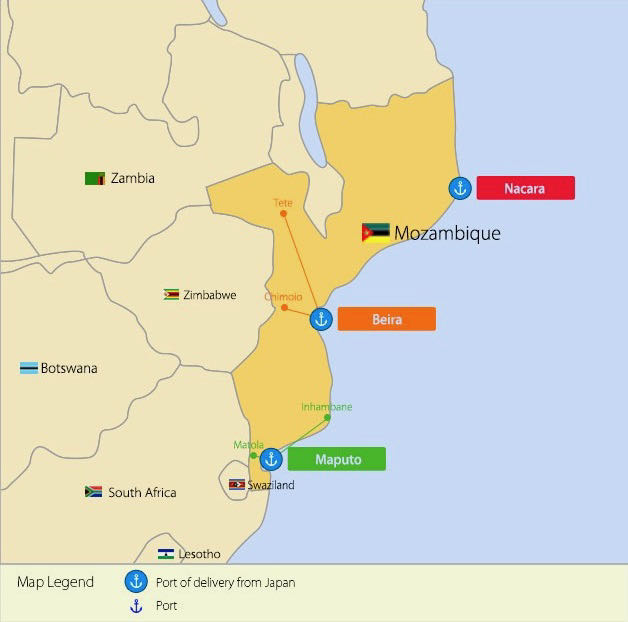 Mozambique
Port of Discharge:
Maputo
Cities to deliver via Maputo:
Matola
Inhambane
Port of Discharge:
Beira
Cities to deliver via Beira:
Tete
Chimoio
Port of Discharge:
Nacala
Import Scheme and Information
Transport:
Your vehicle can be shipped through RORO or CONTAINER depending on your own personal preference and location. The vehicle is delicately placed on board of the freight and secured there in order to nullify any chances of damages. Even in the event of a total car loss, SBT Japan will refund you in total thanks to its very own insurance service! For further information, please follow the following link
Main Ports:
The most used ports in order to import vehicles in Mozambique are:

Northern parts (Tete, Chimoio):

Southern Parts (Matola, Inhambane):
Import Regulations:
Even though used vehicles aren't subject to any age restriction during import, all imported units shipped to Mozambique will be required to undergo an Intertek inspection in Japan and be assigned a unique MOZ inspection number. Even though we provide guidelines to our customers, it is ultimately them who will need to apply for their vehicle's MOZ number at their local Intertek office. You can read more on the Intertek inspection here
Necessary Documents:
Every mandatory document will be sent by DHL Express:
Bill of Lading (BL)
Export Certificate
Pro forma Invoice
(Other documents might be included)
Payment:
Starting the date of the reservation, our dear customers have up to two working days in order to proceed to the payment, after which the reservation will be void. The shipment procedure shall begin after reception of either 75% up to 100% of the payment for first time buyers, and 50% up to 100% of the payment for repeaters. In the event of a partial deposit (50% or 75%), customers are required to pay the remaining amount within five working days after the unit has left the loading port. Failure to do so will result in the unconditional seizure of the first deposit, as well as the resale of the unit without any possible appeal. Our customers are also reminded that bank transfer charges have to be paid entirely by them (OUR), and not be shared with SBT Japan (SHA). Partial payments due to failure of covering the bank transfer charges will result in the interruption of the shipping process of the reserved units, and eventually the cancellation of the reservation if we fail to receive the complete amount in time. Therefore please make sure to carefully plan your ability to finance your project before proceeding to a reservation, as SBT Japan will not be accepting any claims.
The SBT Team

Our SBT sales staff
"Our friendly sales staff are happy to talk with you."

Our yard inspectors
"Our trained inspectors will thoroughly check your vehicles once they arrive in our yard."

Our auction inspectors
"Our auction inspectors ensure we only purchase top-quality cars."
Get In Touch With Us
Office Hours:
Mon.-Fri.: 9am-5pm JST

Closed:
Saturday, Sunday & Public Holiday

Office Address:
KDX Yokohama-Nishiguchi Bldg. 7F,
2-10-36, Kitasaiwai, Nishi-ku, Yokohama, Kanagawa, 220-0004, Japan

Phone:
(+81) 45-290-9485

Fax:
(+81) 45-290-9486

Email:
csd@sbtjapan.com