SBT Tanzania Japanese Used Cars
Now On Air
Past broadcast
Wide Range Of Cars
We've vehicles of all the brands you desire.
Available Where You Are
We've exported 500,000 used cars in over 152 countries.
Supporting You Anytime
Our support team are always connected with customers 24/7
Uncompromised Quality
We do a thorough inspection before shipping so only quality is delivered to you
Keeping It Reliable
With over 25 years in the industry, we focus on reliability resulting in 80% repeat purchases
Offering Best Prices
You can find a wide range of vehicles that are kept in your range
Huduma zetu za kutoa forodhani na kukufikishia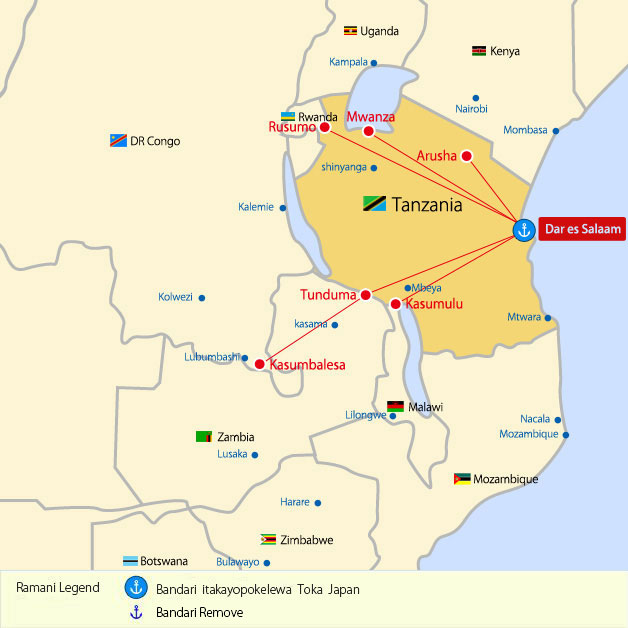 Tanzania
Bandari Itakayoshushwa:
Dar es Salaam
Bei (Iliyokadiriwa)
Kuelekea
Bandari ya Dar es Salaam
Ukubwa wa Gari (m3)
-9.99
10-11.99
12-13.99
14-14.99
15-15.99
16-16.99
17-17.99
18-25.99
Arusha
Bandari ya Dar es Salaam
$350
$350
$350
$350
$350
$400
$400
$450
Mwanza
Bandari ya Dar es Salaam
$450
$450
$450
$450
$450
$500
$550
$600
Kasumbalesa
kasumbalesa
$1,210
$1,150
$1,270
$1,305
$1,350
$1,400
$1,405
$1,750
Tunduma - Nakonde
Tunduma - Nakonde
$580
$600
$670
$700
$780
$840
$915
$1,050
Kasumulu - Songwe
Kasumulu - Songwe
$590
$610
$700
$730
$810
$855
$945
$1,075
Rusumo -Rwanda
Rusumo -Rwanda
$630
$660
$690
$740
$790
$810
$930
$1,120
1 -   Ushuru wa forodha wa nchi yako, gharama za upakuaji na uhifadhi bandarini na Wakala wa Meli katika nchi yako hazikuwekwa katika bei uliyonunulia. Ushuru wa forodha unatokana na ukadiriaji wa thamani ya CIF kulingana na orodha ya bei ya TRA. Gharama ya upakuaji na uhifadhi bandarini inatokana na makadirio ya forodha na dhamani ya CIF kulingana na orodha ya bei ya TPA. Gharama za wakala wa meli wa nchi yako zinatokana na taratibu na orodha ya bei kwa mujibu wa mamlaka ya nchi yako.

2 -   Gharama ya Uwakala wa Forodha inategemea ukubwa na thamani ya Gari lako, kuzingatia mita za ujazo (m3) na thamani ya CIF. Kwa hiyo, bei tuliyotoa katika tovuti ni makadirio ya awali ambayo yanakujenga ili ujiandae na gharama za ndani wakati gari lako litakapofika.

3 -   Pia tunatoa huduma ya kukufikishia gari lako katika nchi yako jirani na Tanzania ambayo haijaonyeshwa kwenye ramani yetu. Kwa maelezo zaidi wasiliana na ofisi zetu za Tanzania.

4 -   Kwa kujua taarifa ya gari lako Wafanyakazi/Wakala wa SBT watakutumia jedwali la taarifa ya meli wakati itakapong'oa nanga Japani na kuanza safari (ETD), hadi itakapotia nanga katika bandari yako wakati wa kufika (ETS). Taarifa za meli zinaweza badilika wakati wowote kutokana na sababu mbalimbali kama vile kuchelewa au matatizo yasio kusudiwa, hivyo tutakujulisha kuhusu mabadiliko na meli itakayofuata haraka iwezekanavyo.

5 -   Pia tunakuletea gari lako hadi katika Mkoa/Mji ulipo ndani ya Tanzania, kwa maelezo zaidi wasiliana na ofisi zetu za Tanzania. Watakuandalia utaratibu mzuri na wakala wa forodha aliyepitishwa na SBT kwa gharama nafuu ili kukupa amani na kukutoa hofu ya kuzungushwa na wakala asiye na vigezo na kiwango kinachorandana na huduma za SBT.

6 -   Nyaraka zinazotakiwa na SBT ofisi ya Tanzania kwa kukamilisha taratibu za forodha na kutoa gari lako. Utatakiwa ututumie kwa barua pepe nakala ya kitambulisho chako kama: Hati ya kusafiria, leseni ya udereva, kitambulisho cha uraia, kitambulisho cha ajira au kitambulisho chochote kinachotambuliwa na mamlaka za Serikali yako. Tunaweza pia tukasimamia usajili wa gari lako na kukupa usajili na kadi ya gari lako, kwa maelezo zaidi wasiliana na ofisi zetu za Tanzania.
Customer Support Team
Paul (Dar-es-Salaam Office)
Hassan (Arusha Office)
Dar-es-Salaam Sales Team
Amani
Baraka
Catherine-Lekule
Darius
Eneles
Frida
Imelda
Irene
Jackline
Jessica
Judith
Julieth
Lazzaro
Mosha
Moza
Nurudini
Wahabi
Yusuph
SBT Tanzania
The SBT Team
Our SBT Sales Staff
"Our friendly sales staff are happy to talk with you."
Our Yard Inspectors
"Our trained inspectors will thoroughly check your vehicles once they arrive in our yard."
Our Auction Inspectors
"Our auction inspectors ensure we only purchase top-quality cars."
Wasiliana nasi
Office Hours:
Mon. – Fri. : 9:00 AM - 5:00 PM

Closed:
Saturday, Sunday & Public Holiday

Office Address:
NHC House GF05 Samora Avenue / Zanaki Street, Dar es Salaam, Tanzania. P.O. Box 3267 Dar es salaam, Tanzania.

Phone:
+255-22-2110740

Mobile:
+255-766-263-008

WhatsApp Number:
+255-766-263-008

Email:
tanzania@sbtjapan.com

Office Hours:
Mon.-Fri.: 9:00am-5:00pm

Closed:
Saturday, Sunday & Public Holiday

Office Address:
Unit 24 TFA Complex - Sokoine Road

Mobile:
+255-758-123-510

WhatsApp Number:
+255-758-123-510

Email:
tanzania@sbtjapan.com

Office Hours:
Mon.-Fri.: 9am-5pm

Closed:
Saturday, Sunday & Public Holiday

Office Address:
KDX Yokohama-Nishiguchi Bldg. 7F,
2-10-36, Kitasaiwai, Nishi-ku, Yokohama, Kanagawa, 220-0004, Japan

Phone:
(+8) 145-290-9485

Fax:
(+8) 145-290-9486

Email:
csd@sbtjapan.com
Our Great Agent in Tanzania