Wide Range Of Cars
We've vehicles of all the brands you desire.
Available Where You Are
We've exported 500,000 used cars in over 152 countries.
Supporting You Anytime
Our support team are always connected with customers 24/7.
Uncompromised Quality
We do a thorough inspection before shipping so only quality is delivered to you.
Keeping It Reliable
With over 25 years in the industry, we focus on reliability resulting in 80% repeat purchases.
Offering Best Prices
You can find a wide range of vehicles that are kept in your range.
Extra Information About Importing
Main Ports:
Suva, Lautoka
Freight Charges:
It depends on the car size. Please consult you local shipping agent.
The shipping:
Armacup: Campbell Shipping
Swire: Pacific Agencies.
Kyowa: Carpenters Shipping
For other options please talk with your sales agent
Import Charges:
Please talk to your sales agent regarding all importation charges.
Payment:
Customer should pay 100 % of vehicle and freight charge in advance.
Door to Door Service: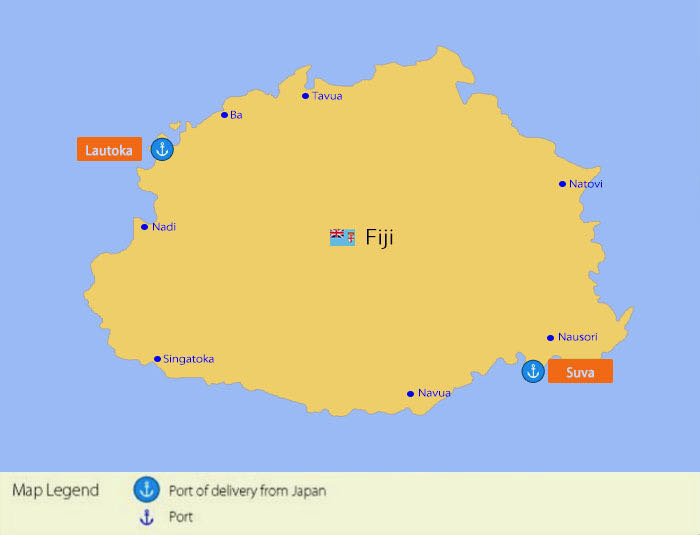 FIJI
Port of Discharge:
Suva, Lautoka
Frequently Asked Questions
The SBT Team

Our SBT sales staff
"Our friendly sales staff are happy to talk with you."

Our yard inspectors
"Our trained inspectors will thoroughly check your vehicles once they arrive in our yard."

Our auction inspectors
"Our auction inspectors ensure we only purchase top-quality cars."
Get In Touch With Us
Email:
sbtoceania@sbtjapan.com

Office Hours:
Mon.-Fri.: 9am-5pm JST

Closed:
Saturday, Sunday & Public Holiday

Office Address:
KDX Yokohama-Nishiguchi Bldg. 7F,
2-10-36, Kitasaiwai, Nishi-ku, Yokohama, Kanagawa, 220-0004, Japan

Phone:
(+81) 45-290-9485

Fax:
(+81) 45-290-9486

Email:
csd@sbtjapan.com