Wide Range Of Cars
We've vehicles of all the brands you desire.
Available Where You Are
We've exported 500,000 used cars in over 152 countries.
Supporting You Anytime
Our support team are always connected with customers 24/7.
Uncompromised Quality
We do a thorough inspection before shipping so only quality is delivered to you.
Keeping It Reliable
With over 25 years in the industry, we focus on reliability resulting in 80% repeat purchases.
Offering Best Prices
You can find a wide range of vehicles that are kept in your range.
SBT Sri Lanka - Profile
Country Name:
Sri Lanka
Local Office Address:
150 , Prof. Nandadasa Kodagoda Mawatha, Colombo 07
Local Phone Number:
+94-1175 95518
+94-117-595-514
Local Fax Number:
+92-21-3416-9010
Official Email Address:
srilanka@sbtjapan.com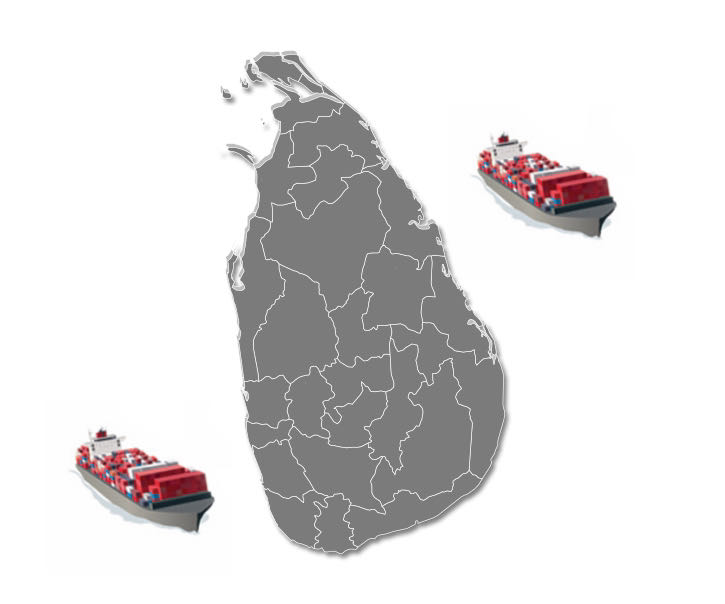 Door To Door Service For Accessories:
SBT provides door to door service of delivering the accessories to the desired customer location anywhere in Sri Lanka.
Translation Service:
Translation Service:
Import Scheme and Information
The shipping:
SBT Japan ship cars from all major ports of Japan. We are in contract with all major shipping company that provides satisfactory service on reasonable rates. We will take care of all export procedures in Japan and arrange shipping for our customers. Our door to door service means that everything is taken care for you from auction site to your port location. (All checks, documentation, certificates & fees included).
Main Ports:
Hambantota / Colombo Port
Freight Charges:
It's depend on car size. Example (Small cars - $700, Sedan - $850, Van & small trucks $1000).
Import Regulations:
According to Sri lanka import policy, For commercial 4 Years old vehicle & For passenger & SUV's vehicle, are eligible to import a 3 years old vehicles from its registration date.
Document Handling:
All documents are couriered through DHL to the customer bank address. The documents includes original B/L (Bill of Landing), Export certificate, Inspection certificate and invoice of unit purchased.
L.C OPENING:
All the L.C's should be made to SBT Co. Ltd. beneficiaries in Japan. Click here for L.C bank Details details.
1. BANK OF CEYLON
2. CENTRAL BANK OF SRI LANKA
3. CITIBANK N.A.
4. COMMERCIAL BANK OF CEYLON PLC
5. DEUTSCHE BANK A.G.
6. DFCC VARDHANA BANK LIMITED
7. HABIB BANK LIMITED
8. HATTON NATIONAL BANK PLC
9. HONGKONG AND SHANGHAI BANKING
10. ICICI BANK LIMITED
11. INDIAN BANK
12. INDIAN OVERSEAS BANK
13. MCB BANK LIMITED
14. NATIONAL DEVELOPMENT BANK PLC.
15. PAN ASIA BANKING CORPORATION PLC.
16. PEOPLE'S BANK
17. SAMPATH BANK LIMITED
18. SEYLAN BANK PLC
19. STATE BANK OF INDIA20. NATIONS TRUST BANK PLC
20. CARGILLS BANK LIMITED
21. AMANA BANK
22. STANDARD CHARTERED BANK
23. HDFC BANK
24. AXIS BANK LTD
25. ASIAN DEVELOPMENT BANK

Frequently Asked Questions
The SBT Team

Our SBT sales staff
"Our friendly sales staff are happy to talk with you."

Our yard inspectors
"Our trained inspectors will thoroughly check your vehicles once they arrive in our yard."

Our auction inspectors
"Our auction inspectors ensure we only purchase top-quality cars."
Get In Touch With Us
Office Hours:
Mon.-Fri.: 9am-5pm JST

Closed:
Saturday, Sunday & Public Holiday

Office Address:
KDX Yokohama-Nishiguchi Bldg. 7F,
2-10-36, Kitasaiwai, Nishi-ku, Yokohama, Kanagawa, 220-0004, Japan

Phone:
(+81) 45-290-9485

Fax:
(+81) 45-290-9486

Email:
csd@sbtjapan.com