Wide Range Of Cars
We've vehicles of all the brands you desire.
Available Where You Are
We've exported 500,000 used cars in over 152 countries.
Supporting You Anytime
Our support team are always connected with customers 24/7.
Uncompromised Quality
We do a thorough inspection before shipping so only quality is delivered to you.
Keeping It Reliable
With over 25 years in the industry, we focus on reliability resulting in 80% repeat purchases.
Offering Best Prices
You can find a wide range of vehicles that are kept in your range.
Extra Information About Importing
Stock Cars:
SBT Japan has a wide range of quality used cars in stock which are always ready to export to anywhere around the globe.
Inspection Sheet Tranlation:
We offer basic inspection of cars before the departure which includes Engine, gearbox, check lamps or any other minor or major problem to insure the best quality.
Auction:
We offer individual ​experienced account manager​s to our valued customers who are buying cars after careful inspection.​ ​A separate auction account to our valued customers ​will also be offered ​through which they can browse and bid on any car(s) coming in auction​ themselves​.
Shipment:
To bring the costs down, SBT JAPAN offers Free on board (FOB) shipping plan to its valuable customers, where the customer pays shipment freight in all over Europe at the arrival of cars to their destinations.
Necessary Documents:
There are certain documents necessary to prove ownership of a vehicle and register it.
These include: de-registration / export certificate, commercial invoice and bill of lading. SBT will send you these documents by DHL
Year Restriction:
There is no year restriction to any of the European countries.
VRT Calculator:
For your convenience, click here to calculate VRT(Vehicle Registration Tax) for any car.
Countries & Ports
| Country | Port |
| --- | --- |
| Germany | Bremerhaven / Hamburg |
| Poland | Gdynia |
| Finland | Hanko / Helsinki |
| France | Le Havre |
| Ireland | Dublin |
| Netherland | Amsterdam / Rotterdam |
| Spain | Barcelonna |
| Astonia | Paldiski |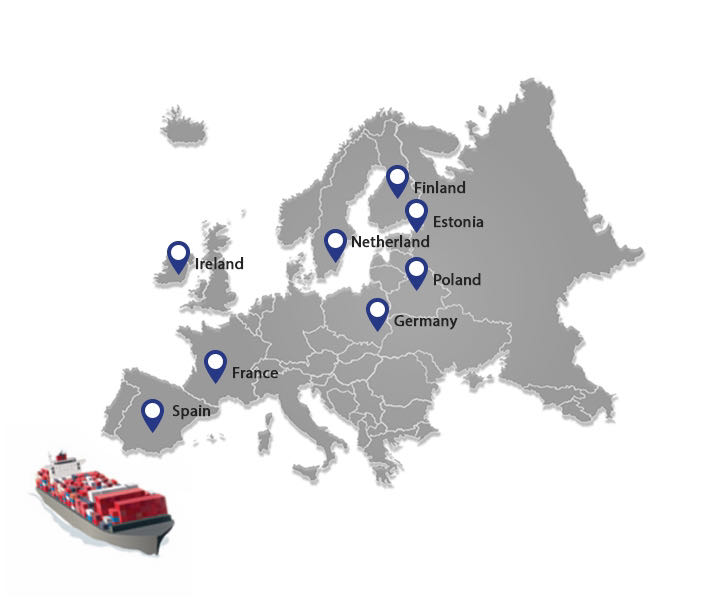 The SBT Team

Our SBT sales staff
"Our friendly sales staff are happy to talk with you."

Our yard inspectors
"Our trained inspectors will thoroughly check your vehicles once they arrive in our yard."

Our auction inspectors
"Our auction inspectors ensure we only purchase top-quality cars."
Get In Touch With Us
Office Hours:
Mon.-Fri.: 9am-5pm JST

Closed:
Saturday, Sunday & Public Holiday

Office Address:
KDX Yokohama-Nishiguchi Bldg. 7F,
2-10-36, Kitasaiwai, Nishi-ku, Yokohama, Kanagawa, 220-0004, Japan

Phone:
(+81) 45-290-9485

Fax:
(+81) 45-290-9486

Email:
csd@sbtjapan.com