SBT New Zealand Japanese used cars
Discount Stock
Fresh from the auction
Low mileage cars
All NZ Stock
Door to Door Service
We can arrange delivery to all major cities in NZ.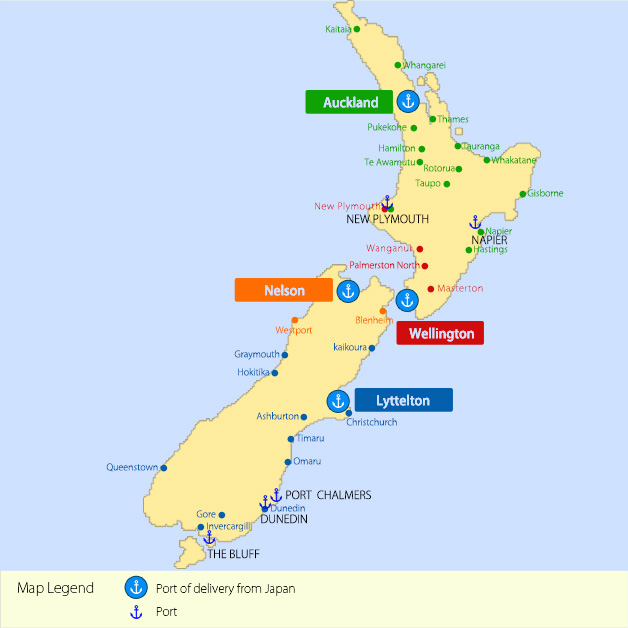 New Zealand
Port of Discharge: Auckland
Cities to deliver via Auckland:
Hamilton
Pukekohe
Te Awamutu
Taupo
Rotorua
Napier
Hastings
Gisborne
Whakatane
Tauranga
Thames
Kaitaia
New Playmouth
Whangarei
Port of Discharge: Wellington
Cities to deliver via Wellington
Palmerston North
Masterton
Whanganui
New Plymouth
Port of Discharge: Lyttelton
Cities to deliver via Lyttelton
Christchurch
Timaru
Oamaru
Greymouth
Ashburton
Kaikoura
Hokitika
Dunedin
Queenstown
Gore
Invercargill
Port of Discharge: Nelson
Cities to deliver via Nelson
Blenheim
Nelson
Westport
Extra Information About Importing
SHIPPING

We ship from all major ports in Japan to all major ports in New Zealand. The journey takes between 2-3 weeks.
We have relationships with major shipping companies and can therefore offer discounted rates on shipping for our vehicles.
We will take care of all export procedures in Japan and arrange shipping for our customers. Our door to door service means that everything is taken care of for you from auction site to your home. (All checks, documentation, certificates & fees included)
EMMISSION STANDARDS

Due to changes in emission standards, as of January 1st, 2012, vehicles imported into New Zealand must have a special 3-digit emissions code.
Generally most cars from 2004 onwards have this code though vans and heavy trucks may not until 2007 or later. There is a special exception- vehicles that are over 20 years old fall under a category called 'special interest' vehicles and are exempt from emissions standard rules.
For our Auckland customers , we recommend getting your compliance check done at Eagle Auto Services.
ENTRY CERTIFICATION

New or used vehicles must be Entry Certified. Learn more about entry certification for imported vehicles here.
ROAD WORTHINESS CHECK

Before vehicles can be driven on NZ roads, they must undergo a compliance check. You can have this done at your local AA / VTNZ compliance center.Alternatively you can have it done at a privately owned center of your choice. Rates vary, but are roughly $400-$500.
Important: If your vehicle has chassis damage it will fail the compliance check and you will need to pay an enormous amount in repair costs.
Our sales staff are trained as vehicle inspectors and often check cars in person. If you are concerned about being charged repair costs please consult a member of our kiwi team. They will do their best to investigate the vehicle condition and notify you in order to mitigate your risk of being charged repair costs. For our Auckland getting your compliance check completed at Eagle Auto services.
RIGHT-HAND-DRIVE ONLY

All used or new vehicles must be Right Hand Drive. Exceptions can be made for special interest vehicles such as antique cars, special purpose vehicles, motorsport cars, machinery or hearses.
VEHICLE DOCUMENTATION

There are certain documents necessary to prove ownership of a vehicle and register it.
These include: de-registration / export certificate, commercial invoice and bill of lading. SBT will send you these documents by DHL
QUARANTINE SERVICE OF (MAF)
Before any vehicle can be released in New Zealand, it must pass a quarantine check carried out by the Ministry of Agriculture and Forestry (MAF)
Why SBT?
We have friendly staff that you can meet face to face at our Auckland office.
We hold around 100 stock cars specifically for the NZ market.
We have inspectors at all major auction houses to provide customers with a clearer picture of cars before they purchase.
We provide a large number of detailed photos including photos of imperfections and underbody.
We provide free translation of auction checksheets.
Our agent fee is highly competitive.
We can assist you in sourcing parts and add ons for your vehicles through SBT parts (new company).
We offer finance options for qualified customers.
We can assist you in sourcing parts and add ons for your vehicles through SBT parts (new company).
Frequently Asked Questions
How do I buy cars from SBT?

It's simple. Just register online and select your car from our web site.
How long does it take from vehicle reservation date to arrival in New Zealand?

4-6weeks
How do I buy cars from auction in Japan?

Once you sign the auction agreement , our staff will provide you with all necessary auction information.
What shipping line do you use?

We can use Armacup and any other major carriers of your choice.
What does "Door to Door Service" include?

Transportation from our yard in Japan to any address of your choice in NZ- all import procedures and fees taken care of. (MAF Inspection, odometer certificate,
radiation check, customs clearance etc).
What does your agent fee include?

Auction fee, transportation within Japan (maximum 20,000jpy), SBT yard check and photos, SBT yard rental, ship booking fee, and SBT commission.
What is the total cost of getting a car to my yard/home?

Simply put: FOB + door to door service + GST.
Roughly how much does the Door to Door Service cost and how long does it take?

Approximately $1300-$1500 NZD and 2-3 weeks. (Depends on the carrier you use and where you live).
I have more questions, what should I do?

Give us a call. Our friendly staff are happy to answer any questions you have.
The SBT Team
Our SBT sales staff

"Our friendly sales staff are happy to talk with you."

Our yard inspectors

"Our trained inspectors will thoroughly check your vehicles once they arrive in our yard."

Our auction inspectors

"Our auction inspectors ensure we only purchase top-quality cars."
Свяжитесь с нами
Головной офис (Япония)

Office Hours:
Mon.-Fri.: 9am-5pm
Closed:
Saturday, Sunday & Public Holiday
Office Address:
KDX Yokohama-Nishiguchi Bldg. 7F,
2-10-36, Kitasaiwai, Nishi-ku, Yokohama, Kanagawa, 220-0004, Japan
Contact Info:
+81-45-290-9485