Sorry, this offer is now closed

Get an SBT-customer
account credit of 0.1% of the total amount

paid by the referee on eligible purchases

Referrers receive SBT-customer account credit when a referee registers a new SBT-customer account with the referrer's referral code, makes an eligible purchase, and completes full payment during the program period.

If you have active referees, you have a recurring monthly income from our Referral Program, which you can apply to car purchases.
HOW IT WORKS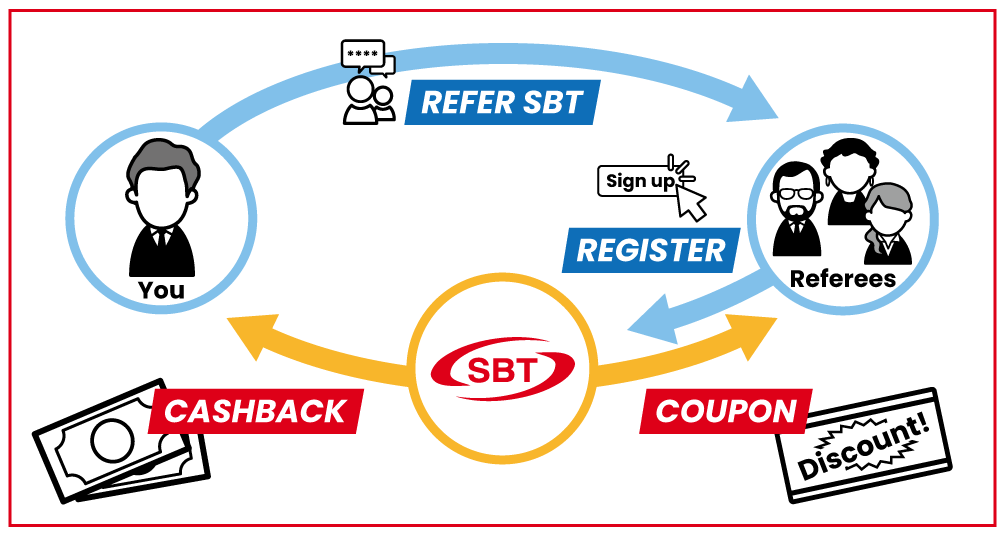 EXAMPLE

EXAMPLE

Campaign Period
March 1st, 2022 - September 30th, 2022
EASY STEPS TO JOIN THE PROGRAM
Create Your Referral Code
Use your referral code while inviting other users to SBT Japan.
2. Click on the "Create Referral Code" button in the "My Account Info" page.

3. Your referral code appears as clicking on the button.

Share your Referral Code with friends or potential customers
looking to purchase a new vehicle!
HOW TO SIGNUP WITH YOUR REFERRAL CODE
Please make sure your friend/customer enters your Referral Code when creating an account.
1.
Visit
our website, and move on to the
"Sign Up" page
.

2. Enter your referral code.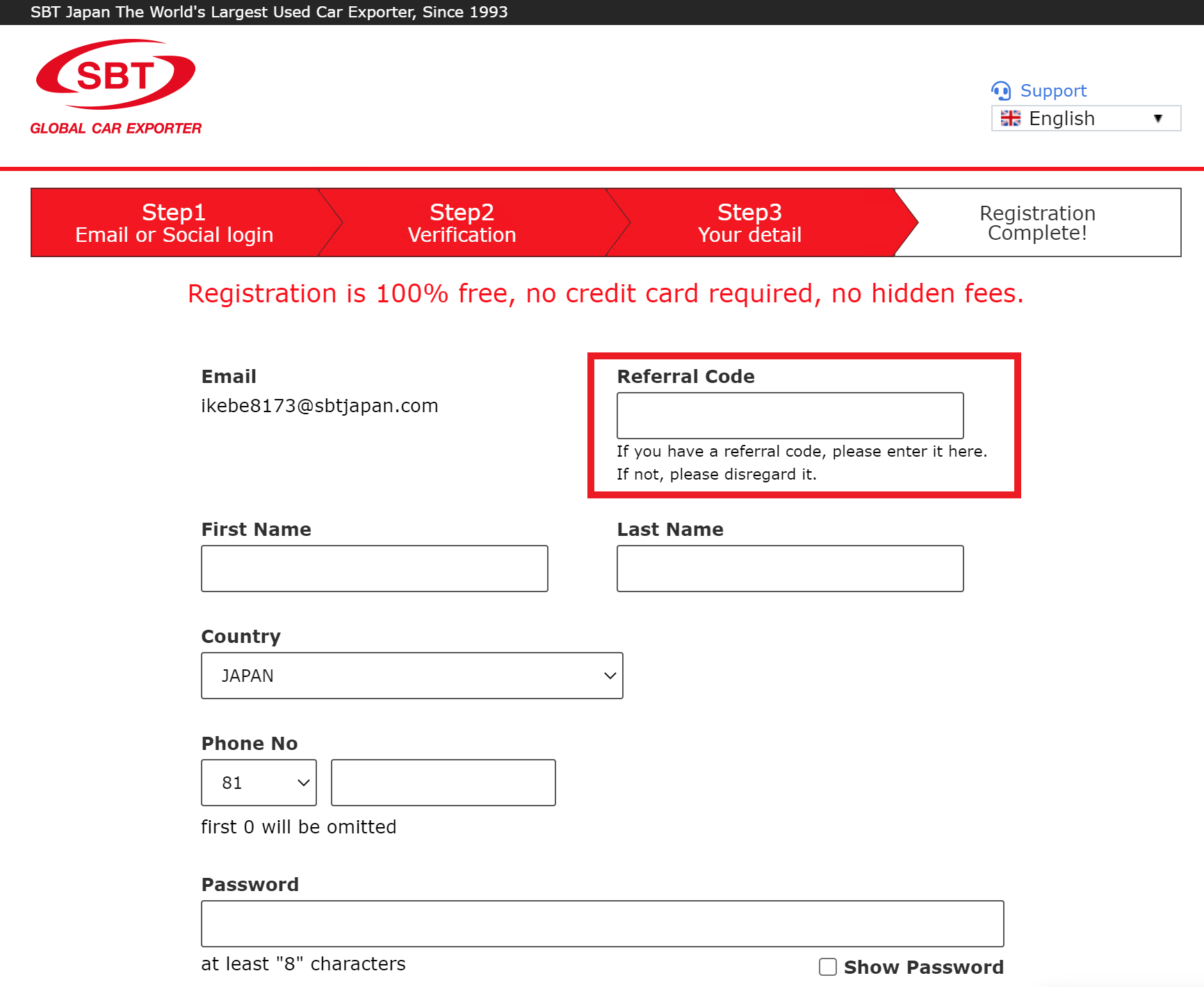 3. Follow the instructions and enter the necessary information, and complete the registration.
CONGRATULATIONS!
Now, she/he is registered as your referees.
NOTE
* Each month is a referral period.
* Each referral period, SBT will calculate referees' eligible purchase(*) amounts and credit the referrer's SBT-customer account.
(*) Only cars meet the requirements below are eligible:
FULL payment made.
ALL documents for the shipment are ready.

A qualified referral occurs when:
1. The referrer shares their unique referral code with a referee.
2. The referee registers a new SBT-customer account using the referral code received from the referrer.
3. The referee makes an eligible purchase and completes full payment during the program period.

SBT-customer account credit:
* cannot be used for vehicle FULL payment.
* cannot be used for import duties, taxes, insurance fees and handling fees.
* is non-transferable and non-negotiable and cannot be sold or transferred.

* Eligible purchases include only online orders from sbtjapan.com by newly registered customers during the program period.
* SBT credits the referrer in only the currency of the referee's payment.

* By participating in this program, you agree with the Privacy Policy and Terms & Conditions.
* The contents of this cashback usage might be subject to change without notice.