Best Used Cars for Sale in Dr Congo
Choose your best imported used car from SBT Japan, covering all transportation requirements, including quick shipment in Kinshasa, Lubumbashi, and Mbuji-Mayi. For you to enjoy the best rides anywhere you wish, we make sure that the vehicle we deliver to you is properly inspected and in the best condition.
Your budget and vehicle demands are very well taken care of. You do not have to worry about finances because we offer you Japanese used cars at the best price. Purchasing second-hand cars are no more problem for us.
We have top used cars for sale in DR Congo, contact us, and get your dream car today!
Grande variedade de carros
Temos veículos de todas as marcas que você deseja.
Disponível onde você está
Exportamos 500.000 carros usados em mais de 152 países.
Apoiando você a qualquer hora
Nossa equipe de suporte está sempre conectada com os clientes 24 horas nos sete dias da semana
Qualidade Incomprometida
Fazemos uma inspeção completa antes do envio para que apenas a qualidade seja entregue a você
Mantendo a Confiabilidade
Com mais de 25 anos no setor, nos concentramos na confiabilidade, resultando em 80% das compras repetidas
Oferecendo os melhores preços
Você pode encontrar uma grande variedade de veículos que são mantidos em seu alcance
Serviço de porta a porta: Descarregando em PORTO of your choice.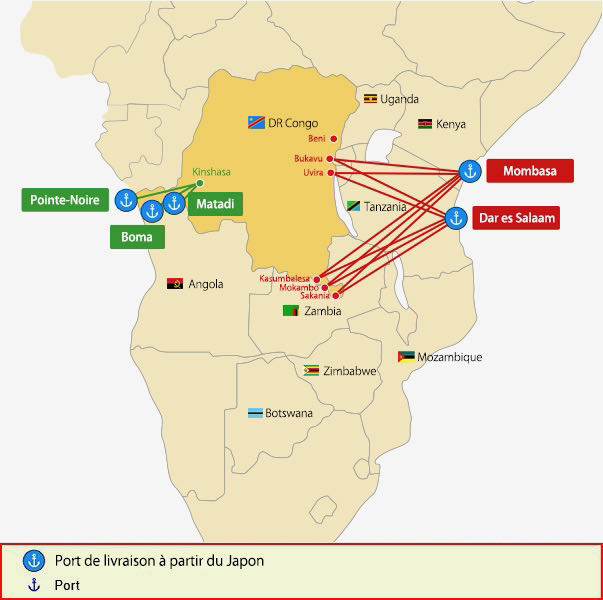 CONGO
Portas principais:
Dar es Salaam
Mombasa
Matadi
Pointe-Noire
Boma
Postes de Douane:
Kasumbalesa
Mokambo
Sakania
Mahadi
Beni
Uvira
Bukavu
Matadi
Livraison possible sur les villes suivantes:
Lubumbashi
Likasi
Kolwezi
Kinshasa
Informações extras sobre importação
Transporte:
Vos véhicules pourront être envoyés par RORO ou par conteneur. Cela dépendra de votre emplacement. A partir du Japon vers le côté Ouest de la RDC, seul l'envoi par conteneur est disponible. Pour le Coté Est de la RDC le mode d'envoi prévilégié est le RORO mais le conteneur reste toutefois disponible.
Portas principais:
Les ports les plus utilisés pour importer des véhicules en RDC sont :
Coté Ouest:
Matadi
Pointe-Noire
Boma

Coté Est:
Mombassa
Dar-Es-Salaam.
Condições do contêiner:
Deux cas de figure se posent pour le marché des conteneurs.
Conteneur Complet:
Dans le cadre d'un conteneur complet avec un client unique, le prix du fret du conteneur sera réparti de manière égale sur tous les véhicules qui seront inclus dans la commande.Groupage:
Lors d'un groupage le prix du fret sera équitablement réparti en fonction de la taille des véhicules qui seront inclus dans le conteneur en question.
Legislação de Importação:
L'importation de véhicules à usage personnel de plus de 10 ans à partir de la date de première mise en circulation est interdite en RDC. Les véhicules de types poids lourds, machines de traveaux publics ou machines agricoles peuvent être exemptés.
Dans tous les cas, il vous appartient de bien vouloir vérifier la législation en vigueur avant de procéder à tout achat.
Documentos necessários:
Tous les documents obligatoires sont envoyés par DHL Express.
Bill of Lading (BL) ou (Connaissement Maritime)
Certificat d'export
Facture proforma
D'autres documents pourront être inclus si besoin est.
Pagamento:
A partir de la réservation , vous bénéficiez de 5 jours ouvrés pour pouvoir procéder au paiement de votre véhicule sous peine d'annulation. Dans le cas d'un paiement à 50%, la première partie est due 5 jours ouvrés maximum après la date de réservation. Les 50% restants sont dus 5 jours ouvrés après la date de départ du navire de son port de chargement. Tout retard pourra se voir sanctionné par une confiscation du dépôt préalablement fait ainsi que la revente du véhicule sans condition ni recours possible. Veuillez vous assurer de votre capacité à financer votre projet avant de procéder à toute commande. Nous serons toujours disponible pour vous aider et vous guider en cas de problème majeur.
Serviços especiais
Avec plus de 20 ans d'expérience dans l'exportation des véhicules d'occasion, vous ferez le choix du professionnalisme et de la qualité. Notre équipe de conseillers qualifiés vous guidera dans le choix de votre véhicule et vous donnera tous les conseils dont vous avez besoin. Fort de notre représentation officielle SBT Congo à Lubumbashi et de notre réseau de collaborateurs partout dans le pays, choisir SBT c'est faire le choix de la sécurité et de la tranquillité.
O Equipe de SBT

Nossa equipe de vendas SBT
"Nossa simpática equipe de vendas terá prazer em falar com você.."

Nossos inspetores de quintal
"Nossos inspetores treinados verificarão minuciosamente seus veículos assim que chegarem ao nosso pátio."

Nossos inspetores de leilão
"Nossos inspetores de leilão garantem que compremos apenas carros de alta qualidade."