Best Used Cars For Sale In Malawi
Looking for affordable used cars to explore the city? Search no more, used cars for sale in Malawi is the ideal option for you to get the best Japanese used cars at the lowest prices possible. SBT Japan offers a wide range of top imported used cars in all the cities of Malawi. Order your car from Blantyre, Lilongwe, Zomba, Mzuzu, or anywhere in Malawi, we can offer you a vast variety of branded second-hand cars to pick and pay for.
Wide Range Of Cars
We've vehicles of all the brands you desire.
Available Where You Are
We've exported 500,000 used cars in over 152 countries.
Supporting You Anytime
Our support team are always connected with customers 24/7.
Uncompromised Quality
We do a thorough inspection before shipping so only quality is delivered to you.
Keeping It Reliable
With over 25 years in the industry, we focus on reliability resulting in 80% repeat purchases.
Offering Best Prices
You can find a wide range of vehicles that are kept in your range.
Clearing & Delivery service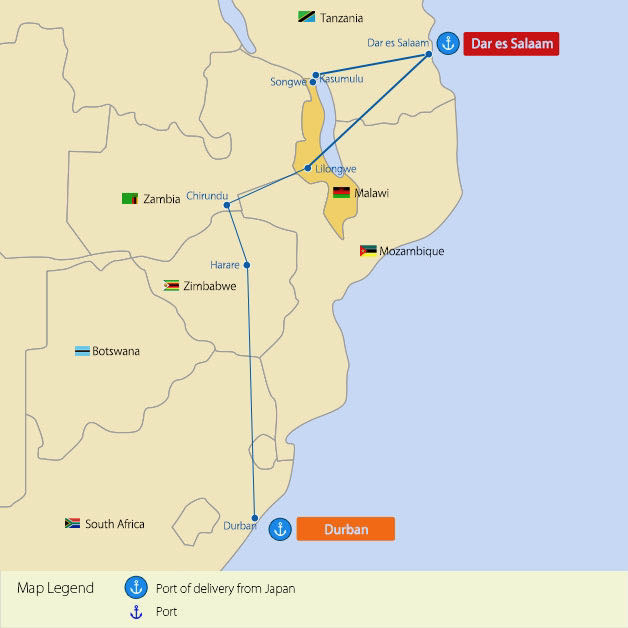 MALAWI
Port of Discharge:
Dar es Salaam
Cities to Deliver via Dar es Salaam:
Songwe
Kasumulu
Port of Discharge:
Dar es Salaam
Cities to Deliver via Dar es Salaam:
Lilongwe
Port of Discharge:
Durban
Cities to Deliver via Dar es Salaam:
Lilongwe
Estimated Clearing & Delivery Charges From Dar es Salaam Port
※ You can pay this City Delivery fee at your door step. Ask our sales person for more details such as Duty, VAT and Clearance charge.
| Car Type | Small Sedan | Medium Sedan | Large Sedan | Small SUV | Mini Bus / Van | Mini Bus / Van | Medium SUV | Large SUV | Micro Bus | Others |
| --- | --- | --- | --- | --- | --- | --- | --- | --- | --- | --- |
| Size - CBM | 0-9.99 | 10-11.99 | 12-12.99 | 13-13.99 | 14-14.99 | 15-15.99 | 16-16.99 | 17-17.99 | 18-25.99 | 26 & Over |
| Delivery to Kasumulu | $590 | $610 | $650 | $700 | $730 | $810 | $855 | $945 | $1,075 | ASK |
| Delivery to Songwe | $660 | $680 | $720 | $770 | $800 | $880 | $925 | $1,015 | $1,045 | ASK |
| Delivery to Lilongwe | $890 | $920 | $970 | $1,040 | $1,090 | $1,195 | $1,265 | $1,380 | $1,535 | ASK |
| Delivery to Blantyre | $1,010 | $1,040 | $1,090 | $1,160 | $1,210 | $1,315 | $1,385 | $1,500 | $1,655 | ASK |
[ Please note that the above prices are only available for customers who purchase at SBT Japan! ]
Extra Information About Importing
Transport:
Your vehicle can be shipped through RORO with relative ease directly to the ports of Dar es Salaam and Durban. The vehicle is delicately placed on board of the freight and secured there in order to nullify any chances of damages. Also, as mentioned previously, you also have the opportunity to have your vehicle delivered directly to your location thanks to our partnership with Smith Freight Forwarders City Delivering Service! In the event that your car is partially damaged, Smith Freight Forwarders guarantees its repair. Even in the event of a total car loss, SBT Japan has the ability to refund you in full thanks to its very own insurance service which you can purchase during the reservation of your vehicle! For further information concerning our guarantee service please click on this link
Import Regulations:
Even though used vehicles aren't subject to any age restriction during import, vehicles with a manufacturing date of more than 8 years are heavily taxed by duty and excise. Therefore, you are highly advised to contact your local authorities and duties in order to check the manufacturing date of the vehicle that you wish to purchase prior to proceeding to the payment, as the « model year » and the « manufacturing year » may differ and SBT Japan cannot be held accountable for it. Also, in order to get an estimate of the import duties (which are not included in our final price) that you will have to pay in order to clear your unit at the port, please click on the following link
Necessary Documents:
Every mandatory document will be sent by DHL Express, which includes:
Bill of Lading (BL)
Export Certificate
Pro forma Invoice
(Other documents might be included)
Payment Deposit Rate (50%/75%/100%):
Starting the date of the reservation, our dear customers have up to two working days in order to proceed to the payment, after which the reservation will be void. The shipment procedure shall begin after reception of either 75% up to 100% of the payment for first time buyers, and 50% up to 100% of the payment for repeaters. In the event of a partial deposit (50% or 75%), customers are required to pay the remaining amount within five working days after the unit has left the loading port. Failure to do so will result in the unconditional seizure of the first deposit, as well as the resale of the unit without any possible appeal. Our customers are also reminded that bank transfer charges have to be paid entirely by them (OUR), and not be shared with SBT Japan (SHA). Partial payments due to failure of covering the bank transfer charges will result in the interruption of the shipping process of the reserved units, and eventually the cancellation of the reservation if we fail to receive the complete amount in time. Therefore please make sure to carefully plan your ability to finance your project before proceeding to a reservation, as SBT Japan will not be accepting any claims.
The SBT Team

Our SBT sales staff
"Our friendly sales staff are happy to talk with you."

Our yard inspectors
"Our trained inspectors will thoroughly check your vehicles once they arrive in our yard."

Our auction inspectors
"Our auction inspectors ensure we only purchase top-quality cars."
Our Great Agent in Tanzania