Japan: Zambia: Tanzania:
SBT Zambia Japanese used cars
Special Price Stock
Recommended Stock In Zambia
New Vehicles
Delivery Service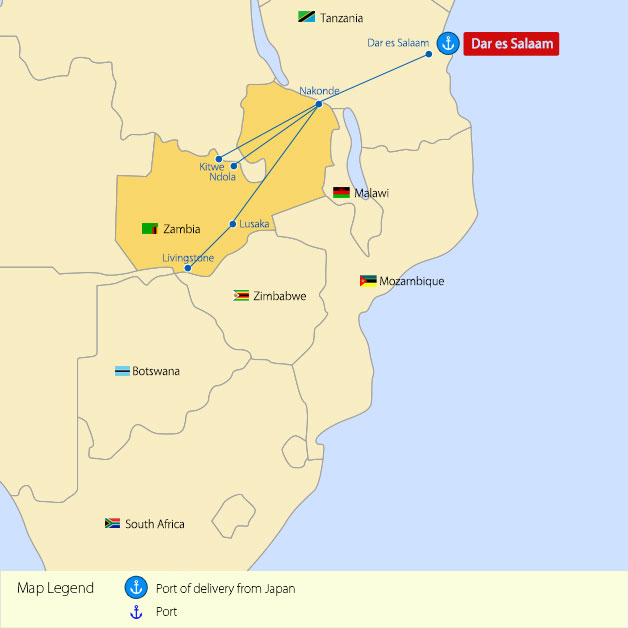 Zambia
Port of Discharge: Dar es Salaam
Cities to deliver via Dar es Salaam:
Nakonde
Kitwe
Ndola
Lusaka
Livingstone


Clearing and Delivery Services fees
from Dar es Salaam to your city in Zambia
CAR TYPE
SMALL SEDAN
MEDIUM SEDAN
LARGE SEDAN
SMALL SUV
MINI BUS
LARGE SUV
TRUCK/ VAN
TRUCK/ VAN
SIZE - CBM
0-9.99
10-11.99
12-13.99
14-14.99
15-15.99
16-16.99
17-17.99
18-25.99
Port Clearance
(Dar es Salaam)
$280
$290
$300
$320
$340
$360
$400
$500
Total to Nakonde
$520


$570

$530


$590

$550


$620

$600


$670

$680


$740

$800


$800

$900


$940

$1,080


$1,110

Total to Lusaka
$1,020


$1,060

$1,140


$1,160

$1,180


$1,210

$1,240


$1,280

$1,300


$1,340

$1,440


$1,480

$1,580


$1,620

$1,760


$1,800

Total to Ndola
$1,000


$1,010

$1,080


$1,110

$1,120


$1,160

$1,190


$1,230

$1,250


$1,290

$1,390


$1,430

$1,530


$1,570

$1,710


$1,750

Total to Kitwe
$1,010


$1,020

$1,100


$1,120

$1,140


$1,170

$1,200


$1,240

$1,260


$1,300

$1,400


$1,440

$1,570


$1,580

$1,740


$1,750

Total to Livingstone
$1,170


$1,230

$1,180


$1,240

$1,230


$1,290

$1,300


$1,360

$1,360


$1,420

$1,500


$1,560

$1,640


$1,700

$1,810


$1,870
Please Contact us When you want to use our Clearing and Delivery Services.
※ Our Clearing and Delivery services can be used in other cities in Zambia.

Contact Detail
Address: 1st Floor, Farmers House, Central Park, Cairo Road, Lusaka Zambia
TEL: +260-971-023162/+260-211-849047
Email: zambia@sbtjapan.com

How To Buy?
Frequently Asked Questions
Q. What do I have to do to buy a car?
Registration is required. After registration is completed, you can buy any car that you want.

Q. Do you have any criteria to become a registered member of SBT?
Anyone who is an automobile dealer or an individual buyer can apply for the membership.
However, for an individual car buyer, we encourage you to check your country's regulations before purchase.
We are not ...

SBT JAPAN AND ZAMBIA POSTAL SERVICES CORPORATION, NOW WORKING TOGETHER!!!

You can select and buy very affordable and high quality vehicles from Japan at the ALL Zampost Offices!!
How to buy
Go to any Zampost Branch
Browse for any vehicle of your preference for free with the assistance of the Zampost's staff
Select the vehicle that you like
Fill out your details on our website
Reserve the vehicle
SBT Japan will send the invoice super-fast to Zampost
Zampost will print out the invoice and you can complete the payment at the Zampost's counter
SBT Japan will contact you to confirm the purchase and to verify your details, also we will guide and assist you during the process until you receive your vehicle.
Note:
Only if you reserve a vehicle throughout Zampost, you will be able to complete the payment at its counter.
If you reserve thorough a different account, payment must be done at the bank of your preference by Telegraphic Transfer
Testimonials
Mr. Daniel Chisonge

I'm​​ Daniel Chisonge living in Lusaka Zambia. Since I started buying Vehicles from SBT Japan

I have received a good service and all vehicles are good quality and good condition, up to now.

I'm in continuity business with SBT Japan, Thanks.

Mr. Muteto Namasiku

I thank the SBT company Ltd for fast deliveries of ordered units as scheduled.

In business customers rely on dependable service from suppliers like you.

I appreciate your services and look forward to continuing business relationship.​

I have been a customer for SBT company for more than half a decade now.

I have known the company to be reliable, of good service to clients, good in terms of communication,

supplies vehicles of good quality and standard and its workers have good online relations with customers.

I like SBT company and I like SBT cars.

Mr. Reagan Bowa

AM VERY PROUD TO BUY THE MOTOR VEHICLE'S FROM SBT JAPAN BECAUSE OF QUALITY NEAT VERY GOOD CONDITION MOTOR VEHICLE.

Mr. Robert Muombo

I love my car. It's a good car. SBT is good. keep it up.

Mr. Michael Mwanza

Thank you for the car I bought from you. The car was as​ ​intact​.

​I saw it on your web site. Keep it up​​ SBT JAPAN

Mr. Mutoya Nicholas

Hi my name is Nicholas mutoya from Zambia Lusaka and am a pharmacist by professional but I buy and sell cars my customer is SBT company.

I have done business with this company for 3 years. The company has very good and cheap units.

I wish to continue doing business with them and have more customers.

Mr. SERGE MALOBA

SBT Japan is the best ever Car deals company. I have bought more than 80 perfects Cars.

Once you pay It's hustle free, no stress .

Mr. Orphine Mhango

I have always cherished the excellent service I receive from SBT JAPAN.
If you are looking for a vehicle to buy, why not try them now and I trust you won't regret.

Mr. MOSES MWALE

Thank you for delivering all 3 cars in excellent condition.

There's no doubt,​ I would recommend all to use SBT​.

Once you pay It's hustle free, no stress!

Ms. Ireen Nsofwa Ngulube

I have always enjoyed the service from SBT. I will always buy from SBT.

SBT Zambia
The SBT Team
Our SBT sales staff

"Our friendly sales staff are happy to talk with you."

Our yard inspectors

"Our trained inspectors will thoroughly check your vehicles once they arrive in our yard."

Our auction inspectors

"Our auction inspectors ensure we only purchase top-quality cars."
Get In Touch With Us
SBT ZAMBIA(Lusaka)

・Office Hours:
Mon. –Fri. : 9:00 AM - 18:00 PM
・Closed:
Saturday, Sunday & Public Holiday
・Office Address:
1st Floor, Farmers House, Central Park,
Cairo Road, Lusaka Zambia
・Contact info:
+260-971-023162
+260-211-849047
・Email:
zambia@sbtjapan.com


Head Office(Japan)

・Office Hours:
Mon.-Fri.: 9:00AM - 5:00PM
・Closed:
Saturday, Sunday & Public Holiday
・Office Address:
Yokohama KDX Bldg,7F,2-10-36, Kita-Saiwai,
Nishi-Ku, Yokohama-shi, kanagawa, Japan
・Contact Info:
+81-45-290-9485